Christmas theme
Here is the list of stamps of the 2006 year what I'd like to have in my collection for Christmas theme. I'm collecting mint (NMH) stamps, small (mini, souvenir) sheets, blocks, booklets, and First Day Covers that are to dedicated Christmas. I hope you can help to me.
Please contact me: alesby@tut.by or ICQ # 35950782
The items that I already have in my collection are highlighted in blue.
Christmas 2006
Merry Christmas and Happy New Year 2007 from Belarus!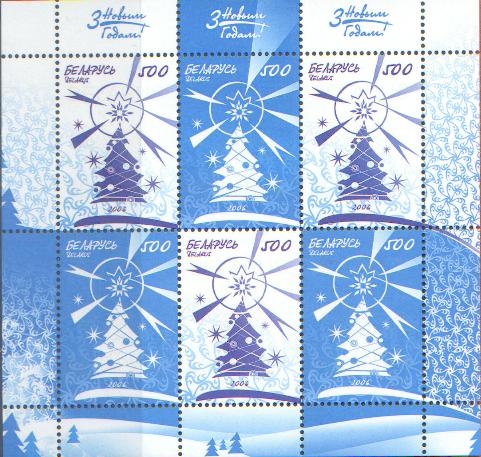 | | | | |
| --- | --- | --- | --- |
| N | Country | Set | Issue date |
| 1 | Andorra (French) | 1v - 0.54 | 02.12 |
| 2 | Andorra (Spain) | 1v - 0.29 | 02.11 |
| 3 | Angola | | |
| 4 | Anguilla | | |
| 5 | Antigua and Barbuda | 4v,ss,sheetlet - 0.30,0.90,$1,$1.50;$6;4x$2 | 22.12 |
| 6 | Argentina | 2v - 2x75c | 21.10 |
| 7 | Armenia | 1v,sheetlet - 70 | 12.03.07 |
| 8 | Aruba | | |
| 9 | Ascension Island | 4v - 15p,25p,35p,1.25 | 30.10 |
| 10 | Australia | 3v,s.a. - 0.45,0.50,1.05 | 01.11 |
| 11 | Austria | 2v - 0.55,0.55 | 10.11;24.11 |
| 12 | Bahamas | 6v - 15c,25c,50c,65c,70c,80c | 28.11 |
| 13 | Belarus | 2v - 500,500 | 22.12 |
| 14 | Belgium | 5v in strip - 5x0.46 | 20.11 |
| 15 | Bermuda | 4v - 0.30,0.35,0.45,0.80 | 12.10 |
| 16 | Bolivia | 3v - 4.00,5.00,6.00 | 04.12 |
| 17 | Bosnia & Herzegovina (BH) | | |
| 18 | BH Croatian | 2v - 1.00,0.50 | 01.12 |
| 19 | BH Serbian | | |
| 20 | Botswana | 4v - 1.10,2.60,4.10,4.90 | 01.12 |
| 21 | Brazil | 1v s.a.,3v in ss - 1° Porte Carta Nao Comercial; 3x1.60 | 27.10;09.11 |
| 22 | British Virgins | | |
| 23 | Bulgaria | 1v - 0.55 | 24.11 |
| 24 | Canada | 4v - 51c,89c,1.49,Madonna - 51c | 01.11 |
| 25 | Cayman Islands | 4v - 25c,75c,80c,$1.00 | 26.10 |
| 26 | Chile | none | --- |
| 27 | Christmas Island | none | --- |
| 28 | Colombia | 2v in pair - 1300,3300 | 13.12 |
| 29 | Costa Rica | | |
| 30 | Croatia | 1v,1v s.a. - 2.30,2.30 | 27.11 |
| 31 | Cyprus | 3v - 13,30,40 | 16.11 |
| 32 | Czech Republic | 2v - 7.50,7.50 | 11.10;08.11 |
| 33 | Denmark | Christmas seals | |
| 34 | Dominica | 4v,ss - 25c,50c,90c,$1; 4x$2 | 01.12 |
| 35 | Ecuador | 1v - 0.80 | |
| 36 | Elands | 1v - Julpost 06 | 09.10 |
| 37 | Equatorial Guinea | 3v - 450,550,600 | 00.11 |
| 38 | Estonia | 2v - 4.40(0.28),6.00(0.38) | 22.11 |
| 39 | Faeroe Islands | 2v - 5.50,7.50 (Churches) | 18.09 |
| 40 | Fiji | 4v - 18c,65c,90c,$3.00 | 05.12 |
| 41 | Finland | 2v - 0.50,1st class | 27.10 |
| 42 | France | 5v in Carnet Meilleurs Voeux 2007, souvenir sheet | 27.11 |
| 43 | French Polynesia | | |
| 44 | Gambia | 4v,sheetlet - 25,30,45,50; 15,20,25,50 | 08.12 |
| 45 | Georgia | | |
| 46 | Germany | 2v - 0.45+0.20,0.55+0.25 | 09.11 |
| 47 | Gibraltar | 6v,ms - 8p,40p,42p,49p,55p;1.94 | 01.11 |
| 48 | Greece | | |
| 49 | Grenada | 4v,ss - 25c,50c,75c,$1; 4x$2 - Rubens | 21.12 |
| 50 | Grenadines of Grenada | 4v,ss - 25c,50c,75c,$1; 4x$2 - Rubens | 21.12 |
| 51 | Greenland | 2v,booklet - 5.50,7.00 | 06.11 |
| 52 | Guatemala | 2v - 0.20,6.50 | 27.11 |
| 53 | Guernsey | 12v - 6x22p,29p,34p,42p,45p,47p,68p | 02.11 |
| 54 | Honduras | | |
| 55 | Hungary | 1v - 52 | 27.10 |
| 56 | Iceland | 2v,booklet - 55,75 | 02.11 |
| 57 | Ireland | 3v - 0.48,0.75,0.48 | 09.11 |
| 58 | Isle of Man | 6v,2v s.a. - 28p,31p,41p,44p,72p,94p - Europa(CEPT);28p,31p | 11.10 |
| 59 | Israel | 1v - ATM | |
| 60 | Italy | 2v - 0.60,0.65 | 28.10 |
| 61 | Jamaica | 4v - $20,$30,$50,$60 | 30.11 |
| 62 | Japan | 4v - 50,80,50+3,80+3;ss - lottery won | 01.11 |
| 63 | Jersey | reprint of 2004: 2 strips of 5 stamps in Minimum Postage Paid rate | 16.11 |
| 64 | Kazakhstan | 1v - 25 | 01.11 |
| 65 | Latvia | 4v - 0.18,0.22,0.31,0.45 | 30.11 |
| 66 | Liberia | ss - 4x$40 - Rubens | 21.12 |
| 67 | Liechtenstein | 3v - 0.85,1.00,1.30 | 20.11 |
| 68 | Lithuania | 2v - 1.00,1.70 | 18.11 |
| 69 | Luxembourg | 1v - 0.50+0.05 | 15.12 |
| 70 | Macedonia | 1v - 12 | 22.11 |
| 71 | Malta | 4v,ss - 7c,16c,27c,37c,Lm1.00 | 05.11 |
| 72 | Malta Military Order | 1v,2v in ss - 1.50,3.00,4.00 | 04.12 |
| 73 | Marshall. Islands | 1v - 39c | 01.11 |
| 74 | Mexico | 2v - 7.50,10.50 | 06.12 |
| 75 | Micronesia | 5v - 22c,24c,39c,75c,84c | 04.12 |
| 76 | Moldova | 3v - 40b,3L,6.20L | 12.12 |
| 77 | Monaco | 1v - 0.53 | 02.10 |
| 78 | Montenegro | none | --- |
| 79 | Nauru | | |
| 80 | Netherlands | 10v,10v -10x 0.29,10x 0.29+0.10 | 23.11 |
| 81 | Netherlands Antilles | 6v - 45,100,149,215,285,380 | 15.11 |
| 82 | Nevis | 4v,ss - 25c,30c,90c,$4;$6 | 08.12 |
| 83 | New Caledonia | 1v - 110F | 13.12 |
| 84 | New Zealand | 10v - 6x0.45,0.90,1.35,1.50,2.00;2v s.a. - 0.45,1.50; sheetlet of 6x0.45 | 04.10 |
| 85 | Niuafo'ou | | |
| 86 | Norfolk Island | 4v - 2x50c,1.20,1.80 | 03.11 |
| 87 | Norway | 2v,personalized stamp, booklet - 3xA(6.50) | 24.11 |
| 88 | Palau | 4v in ss - 4x84c | 04.12 |
| 89 | Paraguay | 2v - 4000,6000 | |
| 90 | Peru | 1v - $2.00 | 22.12 |
| 91 | Philippines | 4v - 7,20,24,26 | 15/19.12 |
| 92 | Pitcairn Island | | |
| 93 | Poland | 2v - 1.30,2.40 | 30.11 |
| 94 | Portugal | none | --- |
| 95 | Romania | 3v,ss - 3x0.50,9x0.50 | 17.11 |
| 96 | Russia | 2v - 7.00,7.00 | 29.11;12.12 |
| 97 | El Salvador | 4v - 1.00($0.11),1.50($0.17),5.00($0.57),10.00($1.14) | |
| 98 | San Marino | 4v,ss,booklet - 2x0.60,2x0.65,2.80 | 13.11 |
| 99 | Serbia | 3v - 16.50,46;46 | 20.11;01.12 |
| 100 | Sierra Leone | 4v,ss - 1000,1500,2000,3000; 4x2000 - Rubens | 21.12 |
| 101 | Singapore | 2v,s.a. - 50c,1st local | |
| 102 | Slovakia | 1v - 10 | 10.11 |
| 103 | Slovenia | 2v - A,C | 17.11 |
| 104 | Solomon Islands | | |
| 105 | South Africa | 6v - 5v in a strip for standard postage, 1v for international air mail | 02.10 |
| 106 | Spain | 2v - 0.29,0.57 | 02.11 |
| 107 | Sri Lanka | 2v - 5.00,20.00 | 13.11 |
| 108 | St. Helena Island | 6v - 10p,15p,25p,30p,50p,1 | 31.08 |
| 109 | St. Kitts | 4v,ss - 25c,60c,$1,$1.20; 4x$2 - Rubens | 27.12 |
| 110 | St. Lucia | 2v - 95c,$2 | 16.10 |
| 111 | St. Pierre and Miquelon | 1v - 0.54 | 06.12 |
| 112 | St. Vincent & the Grenadines | 4v,ss - 20c,70c,90c,$1.10; 4x$2 - Rubens | 06.12 |
| 113 | Suriname | 2v,ss - 4.00,9.20,6.00 | |
| 114 | Sweden | 1v coil,4v in booklet of 10 "Christmas windows" - 5xJulpost | 09.11 |
| 115 | Switzerland | 2v - 0.85,1.00 | 21.11 |
| 116 | Thailand | 4v,ss - 4x30,16 | 15.11 |
| 117 | Tonga | | |
| 118 | Trinidad & Tobago | | |
| 119 | Turks & Caicos | 4v,ss - 25c,60c,80c,$1; $6 - Rubens | 27.12 |
| 120 | Ukraine | 3v - 2x0.70,0.70 | 17.11;24.11 |
| 121 | United Kingdom | 6v s.a., MS, Smilers - 2x2nd,2x1st,72p,1.19 | 07.11 |
| 122 | United States | 4v,1v - 4x0.39 snowflakes,0.39 - Madonna | 05.10;17.10 |
| 123 | Uruguay | 1v - 37 | 07.12 |
| 124 | Vanuatu | | |
| 125 | Vatican | 3v, booklet - 0.60,0.65,0.85 | 12.10 |
| 126 | Venezuela | 10v in ms, 4v in ss | 30.11 |
| 127 | Wallis and Futuna | ss - 225F | |